Joining with Ginny of
Small Things
for this week's yarn along.
The past couple of weeks I have been knitting up some tiny things: cowls, arm warmers, and a wee gnome hate. I was in a craft fair at Finn's school this past Monday and Tuesday (and, well, let's not talk about how it went, as I only sold 4 things... but, seeing as it was my first craft fair, I think I did learn a lot). Anyways, I figured the knits that didn't get sold (which is all of them!) could become easy holiday presents or more likely, a donation for others in need this holiday season. Hmmm, or maybe I will even have a giveaway on here, so check back soon!
The cold weather we have been having here in Oregon has given me the knitting bug. I think doing a lot of small projects also helps, as I feel like I am really whipping stuff out. I have a few more things I have to knit for the holidays, but I have already started daydreaming about a project or two for myself.....
Are you knitting up some goodies for the holidays? Please join me in Handmade Holidays 2013! Click on the badge below to read more.
Now, off to get ready for our Thanksgiving celebration tomorrow.
What have you been reading? What have you been knitting?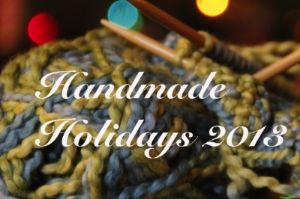 Pin It Now!